Our long-term suppliers of standard products are among the world's leading manufacturers of switching power supplies
BERGER Stromversorgungen GmbH & Co, KG is one of the largest suppliers of electronically controlled power supplies for industrial and commercial applications with a product range of more than 30,000 different types of devices. In the field of electromobility, we offer a comprehensive product range from AC chargers for vehicle fleets to 360kW DC fast charging stations for charging network operators. In company alliance with German Power GmbH, we have been developing, producing and selling innovative and high-quality switched-mode power supplies, electrical energy storage systems (EES) and products for increasing energy efficiency for 17 years. The ability to develop and produce technically sophisticated switch-mode power supplies according to customer requirements flexibly and in a short time in Germany, as well as the large selection of standard products, have made us the preferred power supply supplier for medium-sized and large companies. By cooperating with international market leaders, such as Nipron Co. Ltd. from Japan and Phihong Technology Ltd. from Taiwan, we strengthen our group of companies on an international level and expand our product range with an extensive range of standard power supplies.
On April 24, 2018, the ground-breaking ceremony for the new office and warehouse building was held by managing director Wilfried Berger. With a usable area of more than 1000m², the new building offers sufficient space for the future growth of the company and the creation of new, attractive jobs.
/wp-content/uploads/logo_transparent-1.png
0
0
Berger Stromversorgungen
/wp-content/uploads/logo_transparent-1.png
Berger Stromversorgungen
2020-04-13 13:48:04
2020-04-13 13:48:07
Investment in the future - Ground-breaking ceremony for the new building of BERGER Stromversorgungen GmbH & Co. KG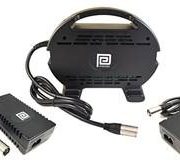 https://www.berger-stromversorgungen.de/wp-content/uploads/da_set.jpg
165
297
Berger Stromversorgungen
/wp-content/uploads/logo_transparent-1.png
Berger Stromversorgungen
2020-04-13 13:32:27
2020-04-13 13:32:30
new Product Group: Battery Chargers (E-Mobility)
Address
BERGER Stromversorgungen GmbH & Co. KG
Bannmatten 10
D-77855 Achern
Tel.: +49 7841 67304-0
Fax: +49 7841 67304-29